Womanizer Liberty by Lily Allen
We are happy to announce our collaboration with beloved popstar, Lily Allen!
Lily Allen talks to us :
''Womanizer changed my life'' also:
''I think the only way to make taboo subject no longer taboo is to speak about them openly and frequently and without shame or guilt''
Womanizer and Lily Allen are joining forces. Together, we can wipe out social stigma about sexuality and celebrate pleasure. With this campaign, we hope to open a global dialogue about pleasure and masturbation and to empower everyone to seek sexual fulfillment. Lily worked with us to create a special edition LIBERTY to share her commitment to pleasure and enthusiasm for premium sex toys.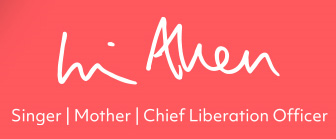 Description of the Womanizer Liberty by Lily Allen
The Womanizer with the reliable Pleasure Air Technology Lily Allen version. In a practical travel-friendly size with a magnetic cover for secure storage. The Womanizer is a lay-on pulsator for contacts stimulation of the clitoris. It sucks and stimulates via impulses in 6 intensity levels. The intensity levels can be controlled with the 2 buttons. 100% waterproof (IPX7). The Womanizer will automatically turn itself off after approx. 30 minutes to avoid overheating. It can then be used again for 30 minutes, once it has cooled down.
Features:
Pleasure AirTM Technology
Our innovative Pleasure Air Technology has been developed for your body. It helps you experience orgasm(s) in a totally new way, without feeling overstimulated.
6 Intensity Levels
6 intensity levels and a simple 2-button control let you choose the intensity that's right for you in the moment – starting gently and building to powerful waves of pleasure.
Travel Cover
Liberty's travel cover features a magnetic closure that makes it easy to open, while keeping it closed tight when you're on the go, for discreet, hygienic transportation.
Waterproof
• Liberty is 100% waterproof so you can take it into the shower with you.
• Patented Pleasure Air Technology
• Travel cover with magnetic closing mechanism
• 6 NEW intensity levels
• Waterproof IPX7
• Easy to use with two buttons
• Rechargeable (Magnetic Charging)
• LED with charging level indication
• Battery run time 120 mins
• Charging time 60 mins
• Quick Start Guide
Sylvain's opinion
You might say: what is the difference between a Liberty and a Liberty by Lily Allen? Well there is not much, from the point of view of the product itself, it is identical to the conventional Liberty except that the Lily Allen version has a different color and packaging. Lily Allen is a pop singer-songwriter, English and born in London in 1985. One of her popular songs is ''Smile''. She campaigns for sexual freedom and thus defends and promotes our industry and our values. So where it makes a difference to get Liberty by Lily Allen is this: as a society we all benefit from it, in the name of freedom of choice in our sex life. I strongly encourage you to choose this model that reflects your vision of sexual expression.