Natural Medilube began in 2019 as a quest to supply the demand for a true plant-based lubricant for Natural Birthing Centers, Holistic OBGYN's and Pelvic Floor Therapists. We quickly realized this formula is beneficial for all consumers, not just practitioners. We now offer Natural Medilube to all as a safe alternative to petroleum-based lubricants.
7 Plant-Based Ingredients With Purpose:

 

Deionized Water

 

- Free from Impurities
Organic Aloe Vera Gel

 

- Soothes, Hydrates & Nourishes Tissues
Sodium Chloride

 

- Natural Antibacterial Preservative & Binder
Potassium Sorbate

 

- Natural Antibacterial Preservative
Propanediol

 

- Natural Moisturizer & Solvent
Xanthan Gum

 

- (Sea Kelp) Natural Thickener & Binder

Ethylhexlglycerin - Natural Preservative Booster
Advantages:

Water-Based & Petroleum-Free
All-Natural Formula, Safe for Ingestion
For Surgical, Medical & Gynecological Lubrication
Perfect Lubricant for Couples Trying to Conceive
What about Osmolality?
Osmolality refers to concentration of the particles in a solution expressed as the total number of solute particles per kilogram.
The World Health Organization recommends that all vaginal lubricants, particularly water-based lubricants, have an OSM of less than 1,200 nano grams per milliliter.
Natural Medilube has been clinically tested by 3rd party laboratories. OSM: 624 mOsm/kg.
More in the World Health Organization (WHO) study.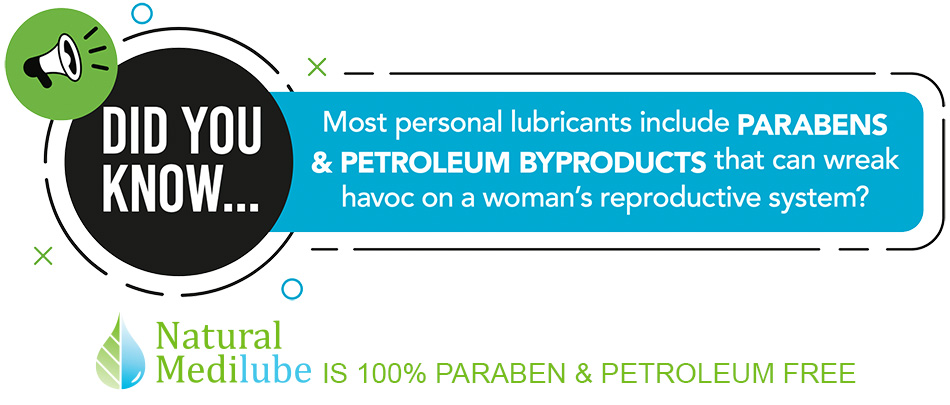 1. What are parabens?
Parabens are chemical preservatives and sources of pollution to both humans and our environment.
2. Why should women in particular avoid parabens?
Parabens act as xenoestrogens which are believed to disrupt hormone function by mimicking estrogen. Women are at a greater risk of developing hormonal disruptions from long-term paraben use as compared to men as a result of estrogen's role in the female body.
3. How do parabens disrupt a woman's reproductive system?
The Endocrine Society has classified parabens as potential Endocrine-Disrupting Compounds (EDCs) which alter a woman's hormone levels leading to imbalances in the reproductive and nervous systems. As EDCs, parabens can dock onto a woman's cell receptors normally reserved for estrogen -- thereby disrupting her ability to ovulate, produce healthy eggs, prepare the uterine lining (endometrium) for pregnancy, and ultimately conceive.
4. Why should women in particular avoid petroleum-based lubricants?
Studies show the presence of petrochemicals in personal lubricants, such as mineral oil, can leave an oily residue on the vaginal biome -- thereby disrupting pH, limiting sperm motility, and elevating the risk of bacterial infection.
5. Why is proper vaginal pH so important for women trying to conceive?
A woman's daily vaginal pH levels range from 3.8 to 4.5 for most of her cycle. Then, during ovulation, luteinizing hormonal surges come into play boosting vaginal pH levels to an optimum neutral to alkaline range of 7 to 8 which is considered "non-toxic" to sperm. Most water-based lubricants, which are non-alkaline, can push vaginal pH levels well below 7 -- resulting in the degradation of seminal fluid and, thus, a lower probability of conception.
100% paraben- and petrochemical-free Natural Medilube combines natural sodium chloride and natural potassium sorbate -- promoting optimal vaginal pH for ingredient conscious couples.